Depending on where you are in the Nordic region, during mid-summer there can be anything between 20 and 24 hours of bright daylight each day. However, as the summer of 2015 unfolds, there is a brighter spotlight shining on the region brought about not by the mid-summer sun but by the growth of outsourcing.
Although some countries in the region have come to outsourcing later than others they have made significant progress in a short space of time and are now better informed than the rest of Europe about how to structure an outsourcing deal to their advantage. This increased acceptance for outsourcing, along with the continued expansion of current contracts, is driving a growth rate that shows little sign of slowing anytime soon.
A prime example of this trend is Finance and Accounting Business Process Outsourcing (F&A BPO). The past four years has witnessed a significant increase of nearly 400% across the Nordic market and senior executives interviewed in a recent Deloitte report[1] indicated this growth is set to continue in many sectors. A look at the providers who have recently won contracts and those mentioned by the leaders interviewed considering outsourcing, shows a shift in the dominance of global players like Accenture and Capgemini and a rising challenge by new players at the table. Indian IT service providers securing more high-profile deals in the Nordics have become more commonplace and the region continues to be the main area where Indian suppliers operate. With companies such as HCL Technologies and Wipro announcing further investments in the region, their presence is expected to grow. Gartner research has found that the use of Indian IT service providers in Nordic countries is growing by 20 % per year, while the growth in the traditional supplier market has been only 2-3% annually.
The question remains: why the Nordics?
A closer look indicates the Nordic IT services market has experienced greater growth than in continental Europe, especially in Sweden, which has not been hit as hard by the economic crisis as many other European countries. According to International Data Corporation (IDC) figures, the IT services market in the Nordics was worth $24.4bn in 2014 and outsourcing was worth $12.6bn of that.
The 2015 Nordic IT Outsourcing Study [2] (conducted by Whitelane Research in collaboration with PA Consulting Group) highlighted the total combined annual value of the contracts that were included exceeded €5.5 billion, with all industry sectors represented. The study concluded that companies will continue to outsource with 79% of all respondents in the study confirming that they will continue to outsource at the same rate or more indicates that the Nordic market still has significant growth potential.
Velocity shares a growing aim with the Indian suppliers: to help shake up a static market dominated by local and multinational suppliers such as Tieto, Evry, KMD, IBM and Accenture and add real outsourcing innovation. In order to be well positioned to drive this value in the region, we have established a Strategic Global Alliance with Advisory Konnect – a premier advisory firm with over 30 years of combined global sourcing expertise.
As part of our goal to bring our innovative outsourcing approach to the Nordics we recently worked with Advisory Konnect to sponsor the 'Nordic IT Sourcing and Innovation Forum' in Stockholm - organised by ITOSDA (The Nordic IT Outsourcing and Software Development Association), Advisory Konnect, and the Professional Outsourcing Magazine. Anthony Lamoureux, our Director for Strategy and Business Development delivered a keynote speech and shared some of our invaluable insights about the evolution of outsourcing.
This built upon our core belief that we shared in our article for the Professional Outsourcing Magazine that it is time for a shift away from cumbersome RFPs and lengthy tenders for critical IT services. Why not have a read of the article to find out why we believe there is a better way[3].The overwhelming signs point towards the outsourcing market in the Nordics increasing further and it is Velocity's ambition to bring genuine supplier and commercial innovation to the region and challenge the status quo of standard and cumbersome approaches favoured by the larger players in the market.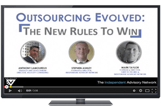 Click here to watch our Masterclass at the 'Nordic IT Sourcing & Innovation Forum 2015' and gain an insight into how we will go about bringing this innovation.
[1] "Insights and trends in the Nordic market", Deloitte, April 2015 - http://www2.deloitte.com/content/dam/Deloitte/fi/Documents/strategy/Nordic%20BPO%20Report.pdf
[2] "2015 Nordic IT Outsourcing Study", Whiteland Research (in collaboration with PA Consulting), 2015 - http://whitelane.com/2015/04/2015-nordic-it-outsourcing-study-results-published/
[3] "Try a little tender-less", Professional Outsourcing Magazine, February 2015 - http://www.velocity.consulting/velocity-hub/news/velocity-challenges-cumbersome-tender-process