After
major transformations, particularly
people and service
related ones (
including
outsources
),
the volume of change and "organisational turbulence" can be
huge.
The
organisation change, like a big elastic band, can easily "snap back" into old (more comfortable) ways of
behaving
and
working.
And
on top of this, people have a day job; so future changes and
improvements
often get postponed, delayed and forgotten – both from a client or supplier
perspective.
We deliver innovative tools and coaching to mentor organisations, both clients and suppliers, to help embed the new processes, roles and behaviours to maximise performance and value.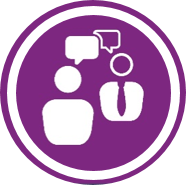 Our array of innovative tools and strength in coaching and mentoring organisations, both clients and suppliers alike, can be combined to embed new processes and ways of working.
Our people-centric approach to any change focusses on getting the right blend of roles and skills, whilst driving the right behaviours, to maximise both individual and team performance and the value they deliver.